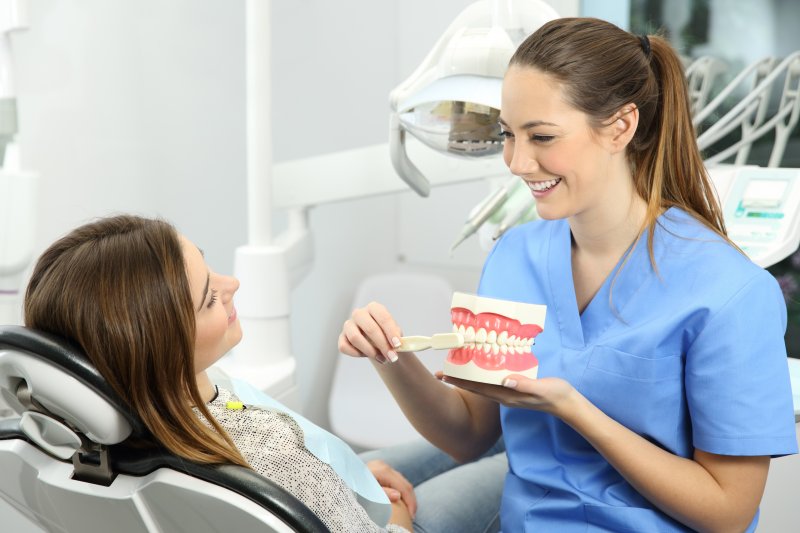 When it comes to dental hygienists, many people are under the assumption that their only responsibility is cleaning teeth. However, that couldn't be further from the truth. Although that's certainly one aspect of the job, there are multiple things that a hygienist does to keep a dental practice running smoothly. A dental hygienist works with a dentist to treat patients in areas beyond just brushing and flossing. Read on to learn more about their day-to-day job duties.
Patient Screenings
Before you see your dentist for a checkup, a dental hygienist will conduct a brief screening to assess the overall health of your teeth. They'll carefully examine your mouth, taking note of any abnormalities. Depending on their findings, the hygienist may choose to do a more extensive exam to identify signs of decay and gum disease. Afterward, they'll report their findings to the dentist before the dentist completes the examination.
X-Rays and Impressions
A dental hygienist will often be the one to take X-rays. Nowadays, modern and advanced X-ray machines can take a series of images in just a few minutes. Aside from that, dental hygienists can also take impressions of one or more teeth for the creation of implants, dentures, and other oral appliances.
Patient Education
Believe it or not, patient education is another significant responsibility of a dental hygienist. Many patients arrive at the office with one or more missing teeth, several cavities, or a serious case of gum disease. Since not every patient knows how to properly care for their teeth, a hygienist will gladly take the time to teach them. Additionally, some patients fear the dentist, which prevents them from making routine appointments. That's where a dental hygienist comes in to save the day! They'll do everything possible to make the patient feel comfortable during their visit.
Administering Treatment
Dental hygienists are responsible for many duties surrounding the treatments given to patients. That typically includes removing plaque and tartar buildup, administering fluoride treatments to patients with weak teeth, and applying sealants to cracked or damaged teeth. They also offer other treatments like root planing and scaling.
Patient Counseling
Another crucial component of the job is patient counseling. If a patient hasn't seen a dentist in multiple years, they may feel uncomfortable during their visit. Luckily, a hygienist can help calm them down and reassure them that they'll only treat any existing problems. One example of patient counseling is providing aftercare instructions following a dental procedure like root planing and scaling.
As you can see, dental hygienists do far more than clean teeth. So, next time you visit your dentist for a checkup, don't forget to show your hygienist some appreciation!
About the Author
Dr. Branimir Vatavuk is passionate about creating meaningful relationships with patients and helping them achieve optimal oral health. Since earning his Doctor of Dental Surgery at the University of Southern California, he's attended numerous hours of continuing education courses to grow and refine his skill set. To learn more about the responsibilities of a dental hygienist, visit his website or call (650) 328-7333.